We have worked tremendously in creating remarkable visibility of your product through impressive and eye-catching logos and advertisements which has made us the best graphic design company in Delhi. Branding is a recognized and well suitable form of advertisement and has helped brands in developing a suitable niche for themselves.
What role do logos and advertisement play: Get Your Logo Designed With A Premium Graphic Design Agency In Delhi
Advertisements and logos play a vital role in your business. They not only represent you but also sets a benchmark in the audience's mind. Logo is your first identity just like your name, needs to be catchy, intriguing and something that carves an impression for itself in people's mind and hearts.
WHY ADVERTISIN
Get Creative And Apt Graphics For Your Ad Campaigns With Brandmommy, Graphic Design Agency In Delhi
There is a right saying."I hear and I forget. I see and I remember. I do and I understand" So, without visuals, there is no connective link between the consumer and the business. It becomes a dire need to showcase your product on visual graphics to make it more and more trending and creating a long lasting impact in the viewer's eye. Here Brand mommy steps in, our professional graphic designers provide you with impressive designs that would catch you the maximum limelight. There are some reasons which will definitely convince you to get a graphic designing service for your business. Designing graphics creates a strong impression for your business that would harbor your maximum client base. Any business, be it a startup or a recognized business, needs brand recognition. Here we come for your rescue.As a leading graphic design agency in Delhi, our graphic designers work religiously to make your brand well recognizable and attractive in public. Your brand logo or your brand advertisement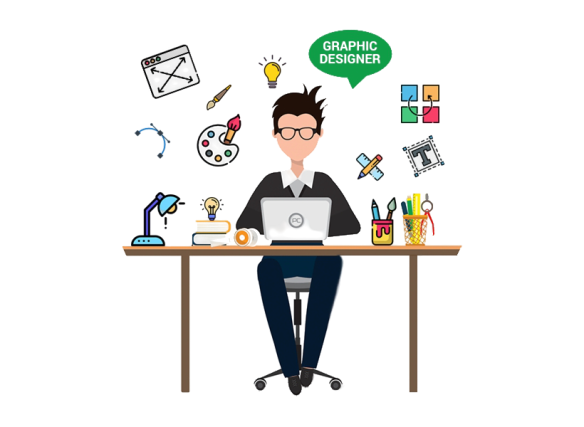 Represents you. It says more about you than your product. And we all believe in the saying ' Jo dikhta hai, wohi bikta hai' or more appropriately, "LOGO ka kaam hai kehna", so why not upgrade your product's value by a simple technique of advertising. It conveys information both about you and your business. At brand mommy, the best graphic design company in Delhi, we commit our clients to get back the return on investment(ROI) as the amount of trust they thrust us with. Our work speaks for us. We believe in worshiping our work and respecting and delivering work on time. The client's happiness and growth is what we work and wish for. Our services are specifically designed to feed the audience at a larger ground. As a professional and experienced graphic design agency in Delhi, Brand mommy offers high-class branding with appropriate end to end services for the brands that outstand us. We are good at designing graphics for pamphlets, ecards, social media, online advertising, banners, videos so on and so forth.. So for any kind of need of graphic designing, we are a call away.. So if you are searching for the best graphic design company in Delhi that delivers creative and quality graphics and fits in your budget, BrandMommy is where your search ends!